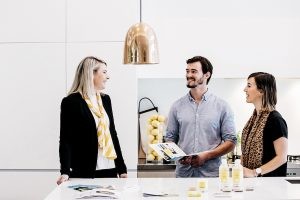 Finding tenants can be a daunting task if you're unsure where to start. Fortunately we take great care in matching your property the ideal tenant.
The Tenanting Process – What Should I Expect?
Property Visit
First, we visit the property and carry out an appraisal for you and providing you with current information on rental statistics.
To establish a price, we take into account rental figures that we have recently achieved in the area, the government statistics and the Real Estate Institute rental statistics as well as comparing current rentals on TradeMe. At this visit we will usually photograph the property and collect as much information as possible to enable us to prepare an advertisement.
Marketing your Property
We list your property on a number of different platforms:
We will also compile a video to accompany the listing if this is appropriate for the particular property. This captures the imagination of prospective tenants and makes the property more appealing. We may also use signage outside the property where possible.
Tenanting Selection
We set up open home times and schedule viewing appointments when necessary. If the property is tenanted we will liaise with your current tenant for access to avoid any downtime for you.
During the viewings is a great time for the property manager to get a feel for the prospective tenants and prescreen them for you. We can often gauge a lot from tenants during this time.
When tenants have viewed the property and are interested, they must make a written application to us providing details such as income, current and previous addresses and employment situation. The information collected will enable us to do the necessary credit and referencing checks on the applicants which will in turn help us establish if they are the right fit for your property.
We feel this is the most important stage in the process as getting the right tenant at the beginning will set the tone for the tenancy. When we have processed the applicants we will present them to you so you can make the final decision. If you would like to meet any of the applicants this can also be arranged.
We will then discuss any final items you wish to have included in the tenancy agreement before we invite the tenant to sign up. We have a tenancy agreement specifically designed in line with our application forms. These documents have been designed for us by Tenancy Practice Services and cover everything we require if there is a need for debt collection.
The sign up process can be carried out face to face or via email (this is becoming more and more common). It is because of this, for our managed properties we also provide tenants with a detailed handbook and give them their own welcome pack including a USB drive containing all relevant Tenancy Information and documentation relating to their tenancy. This welcome pack also highlights the do's and don'ts of renting with us.