We're a family business and have been for over 30+ years. Owner and Director Mary Taylor plays a hands-on role in the business's daily operations, and if you have any concerns, she's always happy to help.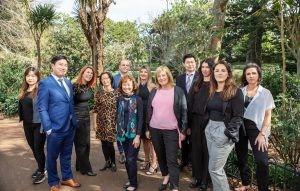 Our Team
Our team is enthusiastic and energetic, with a wealth of knowledge accumulated from a combined total of 108 years of experience.
We take a meticulous approach to our tenant selection process as we believe identifying the best possible tenant greatly reduces the risk of any issues. However, if any problems occur, we have procedures in place to get things back on track. This includes a zero-tolerance for arrears policy.
Mary believes in looking after her team to ensure a happy, positive environment. She ensures that her Property Managers aren't overcommitted, allowing them to focus on delivering a high level of service to our clients.
We also have a separate administration team that can assist with any queries you may have regarding statements, end-of-year reports and accounts. We also have audited Trust accounts. We have competitively priced commission rates that can be customised for our clients. To inquire, please email Mary directly.
Flexibility
We're open six days a week, making it easier for tenants to collect keys and make payments. Both tenants and landlords can now login online to access their accounts, allowing them to track payments in real time through our REST PORTALS. We're happy to make transfers once a month, twice a month or weekly to fit in with your mortgage payments where possible.
Proven Track Record
We've collected many awards and are constantly moving the goalposts to benefit our Landlords and Tenants and to further develop our team skills. Mary is constantly looking for new ways to stay ahead of the game.
We also have a multi-lingual team that can assist with translating to both Mandarin and Cantonese where necessary.
We have a large portfolio all over Auckland and extensive knowledge of each area. Please refer to our map detailing the suburbs we service.
Most importantly, we genuinely care. This is reflected in our work ethic and how we surpass expectations to achieve the best possible results for your property.
Video Testimonials
Find out what our clients say about our service.